Home Again
Dear Friends,

HomeAid Orange County, in cooperation with WeedPatch Recordings, is producing a music-documentary designed to assist the 20-year-old non-profit organization in building awareness of the needs of homeless men, women, and children.

As many of us already know, it's estimated that more than 21,000 people experience homelessness in Orange County over the course of a year. In 2008, WeedPatch Recordings brought together dozens of talented songwriters, musicians, students, community members, and business leaders in the production of a music CD to benefit Friendship Shelter, a non-profit organization serving homeless men and women in Laguna Beach. Shelter Me also showcased homeless musicians, and featured 13 original songs written by local songwriters.

Now HomeAid Orange County and WeedPatch Recordings will bring together another group of creative individuals to help us realize a music-documentary, which ultimately will be used for marketing and promotional purposes.

Scott Hays and Roger Harvey of WeedPatch Recordings, and HomeAid Orange County Director of Community Relations and Public Affairs, Carolyn Baker, are serving as project managers for this important effort and would greatly appreciate the cooperation of individuals such as yourself. We hope you will join us in helping to create a powerfully moving voice for those who have gone unheard for so long.

For more information on the production of this music-documentary, please contact Scott Hays at 949.497-9589 or WeedPatchRecordings@cox.net.

For more information on HomeAid Orange County, please contact CarolynBaker at 949.553-9510 or carolyn@homeaidoc.org.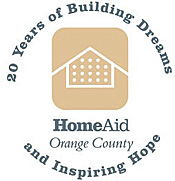 Home | About Us | Shelter Me | Home Again | Media
Purchase Now | Contact | User Agreement