Purchase Now
Friendship Shelter

We appreciate your purchase of this CD to help end homelessness in Orange County. Friendship Shelter of Laguna Beach provides emergency shelter, three meals daily, and a wide range of counseling and support services to 30 homeless adult men and women for up to 60 days—at no charge. To date, more than 5,000 adults have been the recipients of Friendship Shelter's services.
Click here to PURCHASE your CD.
If you would like to become a friend of Friendship Shelter, please contact:
Friendship Shelter, Inc.
P.O. Box 4252
Laguna Beach, CA 92652
949.494-6928
www.FriendshipShelter.org
Also available at Sound Spectrum, Laguna Beach Books, and Hobie Laguna Beach.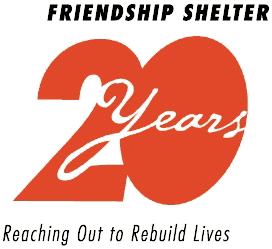 Home | About Us | Shelter Me | Home Again | Media
Purchase Now | Contact | User Agreement