In the spirit of the season, some might choose to make a difference in their community by volunteering at a local soup kitchen or homeless shelter. For two Southland artists, giving back meant sharing their unique music and message to raise awareness for the plight of the homeless. And for both their gifts of charity began, long before this year's holiday celebrations.
John Batdorf
Los Angeles-based rock musician John Batdorf signed his first recording contract at the age of 19, along with then partner, Mark Rodney. Together, Bardorf and Rodney toured the U.S. and Canada with a cornucopia of classic folk and rock groups, including Bread, The Doobie Brothers, America, Jackon Browne, Seals & Crofts, Harry Chapin, and Fleetwood Mac.
In 1972, Batdorf wrote an upbeat song titled "Home Again". He revisited the piece while in concert in 2006 in the San Fernando Valley. In attendance was Scott Hays of Laguna Beach who two years later founded WeedPatch Productions, a company that specializes in creating awareness and fund-raising projects for local charities.
Hays had been a fan of Batdorf since his teen years. "I was in the process of producing a music-documentary for Irvine's HomeAid OC, the home builder's industry outreach program for shelters," says Hays. "I searched for music that would speak to a better future for the transitionally homeless. Although, 'Home Again' was written almost 30 years ago, it was loaded with great vocals and slamming acoustic guitars. And it resonated perfectly with the documentary's theme of instilling hope."
Batdorf says he was delighted to share his song for Home Again. "When I first met Scott, I didn't imagine we'd someday have the opportunity to work together on a project that would become part of the solution against homelessness. It's especially meaningful to me as a resident of greater Los Angeles county, which is often referred to as 'the homeless capital of the nation' in the newspapers and on the airwaves."
Currently on tour to promote his new album "'Old Man Dreamin'", Batdorf is no stranger to vocalizing social conscience. In 2006, he co-produced a DVD with fellow musician and lyricist Michael McLean for Urban Compass, a non-profit organization in Los Angeles that offers an alternative model to violence and poverty for at-risk youth. The video features his song, "The Lucky Ones".
While Batdorf's most recent call to give back, titled "12 Songs for 12 Steps" is in progress for the Alcoholics Anonymous (AA) program, he continues to challenge mainstream pop culture, collaborating regularly with McLean.
The bluesy number "That Don't Seem Right to Me" expresses some of Batdorf's frustrations in light of the recession, e.g., Americans working two jobs to buy gas, paying more taxes for corporate debt, the rising tide of foreclosures, and suggestive magazine ads for torn $200 jeans. Although the song runs less than four minutes, Batdorf says he has enough material for the song to last 20 minutes.
"There's a tremendous amount of new and independent music with deeper meaning that needs to be heard above the din of marketable sounds being mass-generated by the big labels," notes Batdorf.
Beach-city songwriter shares talent
Scouting for additional talent for Home Again, WeedPatch executive producer, Roger Harvey saw musician Jason Feddy perform and asked him to write a song for the music-documentary. Feddy who hails from Northern England had, as he puts it, "washed up on the shores of Orange County" after formerly playing with David Gray, Ben Folds Five, and Neil Young.
Feddy describes the process of getting started writing any song as the hardest part of composing. "I had the usual blank sheet of paper and a pen, and was staring at them. Then I took a step back and saw my desk, on my floor, against my wall, my bed, my computer and thought, 'Wow! No home, no work, no nothing.' After that, the words came pouring out. It made me feel grateful for my situation," says Feddy.
He performed the song live last September at Home Aid OC's Annual Project Playhouse Dinner Auction, hosted by Newport Coast residents, Ron and Cindy McMackin who opened their home  for the final event which raised $338,000 in six weeks.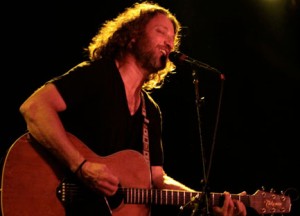 Jason Feddy
Home Again is Feddy's second musical project with WeedPatch Productions. In 2008, Feddy recorded "Ain't It Just a Wonderful Life"; a song written by formerly homeless Laguna Beach resident David Holland, on "Shelter Me", the CD featuring 13 songs written and performed, in part, by homeless musicians.
Friendship Shelter's programs director Mark Miller describes "Shelter Me" as a gift, "One of those wonderful opportunities that drops in your lap and almost seems too good to be true." All proceeds from the CD benefit Friendship Shelter.
When asked if he thought there was a trend growing among musicians to make a difference, Feddy answers, "I hope it's not a 'trend'. Musicians have always made attempts to change the world for the positive, as have people from other professions. The problem is the world changes very slowly, or in fits and starts. The trick is not to become cynical."
Feddy recently traveled to Tel Aviv, where he performed for an organization called "Friends of Daniel Pearl." The foundation produces shows around the globe to promote inter-cultural understanding in the name of American journalist, Daniel Pearl. Pearl was kidnapped then killed by terrorists in 2002.
Closer to home, Feddy also volunteers for Help Bluewater, an ocean/environmental  preservation group in Laguna Beach, and is recording "Songs from the Plays of Shakespeare", a project he hopes to bring to inner-city schools in Los Angeles.
Southland Volunteerism Shines Globally
In just two years, WeedPatch Productions has become the wellspring for an all-volunteer movement using music and visual media to craft cause-driven messages that now reach afar.  Home Again, the music-documentary, received a nod in November at the USC School of Cinematic Arts at the 2010 "My Hero Project" Short Film Festival in the category "Professional Portraits of Organizations". The music-documentary will boost fund-raising efforts for HomeAid chapters across the country to help temporarily homeless individuals and families.
The "My Hero" website was built on the belief that people of all ages from around the world can participate in volunteerism by sharing stories, art, and short films that illuminate heroes from all walks of life. Teachers from more than 180 countries use "My Hero" programs online in schools, libraries, and workshops, as well as at community and media centers.
As 2011 draws near and the season for giving crescendoes, many Southern Californians like the volunteers at WeedPatch will choose to make a difference, locally and globally, sharing their time, money, energy and talent.
And singer-guitarists, John Batdorf and Jason Feddy will keep on playing, hoping to change the world–one note, one song at a time.
- See more at: http://www.scotthays.com/musical-gifts-keep-giving/